OUR Dental STAFF
Each member of our dental staff is highly trained and committed to providing the best dental health care possible.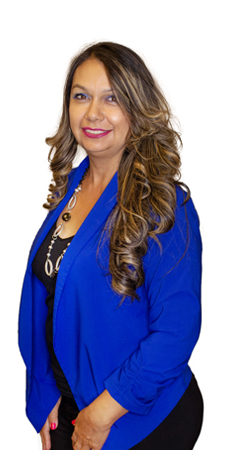 Debbie
Office Manager
Hi! I'm Debbie Ruiz, Office Manager at Progressive Dental.
I started as a dental assistant and transitioned to Front Office. I've been in this position for 27 years! I love it!
I see my purpose at work as this: helping patients find a solution for whatever they need. It's their smile after finding a solution that I am looking for! Often, I will take the time to explain what can be done now to prevent dental problems later. In educating patients, I customize my 'training' plan to the patient based on how you process things.
It's also my goal to make patients very comfortable in our dental office. Patients are the most important and our main priority.
Here's a little about me: I'm originally from Phoenix, born and raised there. I have my own family – I call us a "very United family". I support my kids in baseball/softball, and I really enjoy watching them play. On my own time, I love cooking, hiking, and exercising.
I hope to see you in the office soon!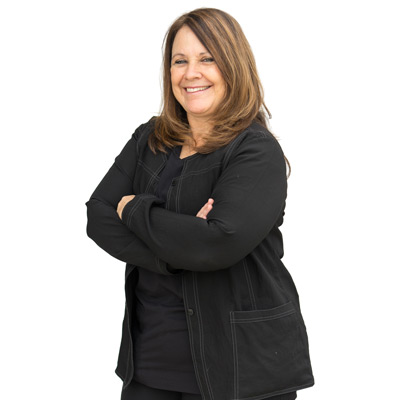 LORIE
Dental Hygienist
I am Lorie Brewer, a dental hygienist. I'm a home bred Arizona girl through and through. I enjoy working with my church group and I am very active in community service. I have a love for the fine arts and have been involved in many productions ever since I was a child. Today, I love spending time with my husband going camping and enjoying weekend getaways. Together we have 7 grown children and have 14 grandchildren (with two more on the way). I love life and enjoy having fun with my family.
I have been in dentistry since 1982. When I was a small child, I was inspired by my childhood dentist who was very patient with small children. This dentist and his staff made dental visits fun and since then I wanted to work in a dental office. I completed my dental assisting program at Apollo College and graduated in 1982. I practiced dental assisting for years and absolutely loved working with the dentist as well as our patients. I was often the one the patient turned to for answers. I loved educating my patients on pre-op and postoperative care. I decided to go to part time work and further my education in the dental field. I received my degree at Phoenix College for dental hygiene in 1997.
Over these years I have enjoyed educating my patients on how they can improve, not only their oral health, but their complete overall health. I am looking forward to treating and educating many more people by giving them the best quality of care.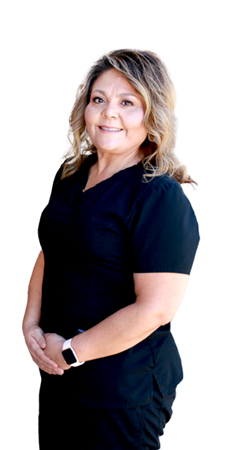 Cindee
Dental Assistant
Hi! I'm Cindee Ross-Beecroft, your dental assistant at Progressive Dental. I've been doing this job for 17 years and love it. I feel like dentistry chose me; I didn't choose it. I had a scary dentist as a child. I was the only one in my family that needed braces. My orthodontist was cool and everything they did fascinated me.
I'm a good person to have on your dental healthcare team because of my childhood fear of the dentist. I've been in other people's shoes that have dental fear!! Education is the key to winning the battle against fear. With proper education, the right training and being part of a Great Team I can help you overcome fear or anxiety. This allows the patient to get the work done and to be happy about having the work done.
I started out in the banking industry at age 18. I graduated from high school in 1989 and went to NPC Community College for business. Then I went in to get a tooth pulled met a dentist who trained me to be a dental assistant. I stayed at that office for 6 years, moved to Maricopa and have worked for Dr. Pope for 9 years. This September it will be 10 years!!! Dr. Pope is an amazing guy. I have had different challenges in life that he has not only been there for me as a boss to me but a mentor and a friend.
I wanted to help people overcome dental fear. I listen to patients, offer information about their situation, pictures, time and examples. We have pamphlets, models, IPad with videos so they meet everyone's needs. I help patients focus on prevention by making sure their next hygiene appointment is set and educating them. Educating them involves a high degree of listening skills.
What patients tell us is key to diagnosis or to making their experience a positive one. They have to trust us to tell us things about their situation, so I work on having a trusting relationship with them. Making them feel important and like they have a friend is important.
About Me
I was born in Ajo, Arizona and grew up in Pinetop, AZ. I am the oldest of 3 girls. I grew up in the beautiful White Mountains of Arizona, on five acres of property where we had horses and other animals. My dad worked 2 hours away from home, but my parents wanted all their girls to go to the best schools and still have the freedom to live the ranch lifestyle.
I have been married for 23 years. My husband Dicky is in transportation and heavy equipment. I have 2 children Robert and Shelbee. My son Robert was enlisted just returned from the U.S. Army and my daughter is getting ready to leave to start her military career.
My interests and hobbies are my family!! My kids!! I love cooking for my family, trying different recipes, making them my own and feeding my family as we come together. Being outdoors horseback riding, camping, spending time at the lake, jet skiing, dirt bike races, off roading in UTVs and visiting different places in Arizona such as Tonto National Bridge, Tombstone, Roosevelt and so on is always a lot of fun for me.